SculptSkin™ Body
Regular price
Sale price
$305.00
---
BODY RESHAPING IN ONE TINY HAND HELD SOLUTION.
We bring you the SculptSkin Body. This tiny handheld device helps you tone and sculpt away all those stubborn areas that refuse to go away.
Using leading edge technology, ultrasound waves convert fat cells into liquid which can then be naturally drained by the body's own natural filtration system.
Discover the most advanced body contouring device. The sculptskin body delivers advanced ultrasonic cavitation and radio frequency technology to provide clinically proven cellulite reduction, fat reduction, skin tightening and collagen production.
This unique system combines low-intensity focused ultrasound with radio frequency energy to target unwanted fat and stubborn cellulite. 
What can this device do for me? 
Experience the ultimate in body contouring with our luxurious 40kHz ultrasonic cavitation machine.
Using state-of-the-art technology, our advanced machine generates high-frequency sound waves that create bubbles in a liquid, which can then be used to break up fat cells and reduce the appearance of excess fat on the body.
With its sleek and elegant design, our ultrasonic cavitation machine is the perfect addition to any home spa or beauty routine.
Order now and discover the luxurious, transformative effects of ultrasonic cavitation for yourself.
How does Radio Frequency work to reduce your stubborn belly pooch?
RF uses a combination of heat and vibrations to disrupt the fatty deposits in the body. The disruption is great enough to cause the fat cells to break down and allow your body to rid of them via your natural lymphatic drainage system. 
You can use this modality in just about every part of the body: 
Belly
arms
legs
flanks
thighs
It is especially useful for areas that do not respond to diet and exercise.  That no matter how much you exercise and diet there doesn't seem to be a change. This treatment will allow for those areas to become malleable enough to jumpstart the fat burning process in the body. 
SculptSkin™ Body is the next generation non-surgical body sculpting device. Designed to target stubborn fat and cellulite, this device works by combining ultrasonic cavitation and radio frequency energy to produce localized internal heating on the skin. This results in the destruction of fatty tissue and collagen production, safely and effectively reducing your unwanted fat areas.
Ultrasonic Cavitation vs. Surgery Cost 
Ultrasonic cavitation has been coined the 'noninvasive lipo treatment." Rightfully so! 
The SmartLipo ultra-slimming device uses cavitation and radio frequency technology to help you lose inches off your waist and hips.
it is so effective in reducing stubborn fat in unwanted areas that many plastic surgeons have started offering it as an alternative to invasive surgery. 
The cost effectiveness itself makes it even more appealing. Rather than spending thousands of dollars on being cut open and put down on anesthesia, you can opt for a safer solution. 
It requires no downtime and it is incredibly easy to use - every 3 days or 72 hrs!
Clinically proven multi-wave technology to address cellulite, fat reduction and skin tightening. Fast, effective results that last over time.
Reduce Fat in Unwanted, Stubborn Areas
Procedure is non-invasive so you can go to your regular activities at no time. You will be amazed how beautifully you can reduce fat in problem areas and reshape targeted areas.
Sculptskin body is a modern day solution for cellulite reduction, fat reduction, skin tightening, and collagen production. This dual powered radio frequency and ultrasonic cavitation device provides the most effective non-surgical body contouring system available today.
Can Radio Frequency Improve your Wrinkles and Fine Lines? 
Short answer, YES!
Radio frequency (RF) has been studied extensively and peer-reviewed over the last century. The results suggest that radio frequency has been effective in stimulating the collagen production in the body. 
It is a non-invasive treatment that uses radio frequencies to increase the production of healthy collagen and elastin, improving the appearance of wrinkles and fine lines on the face, hands and body in just 30 minutes.
Your body naturally stops producing collagen at the age of 25. So it is essential to keep the production pumping in order to look more youthful, refreshed, and reduce the number of wrinkles, loose sagging skin and fine lines.  
Take your shape, firmness, volume, and elasticity with you, wherever you go.
Bye, Bye Cellulite
You may ask yourself, how does the SculptSkin Body reduce cellulite? 
The SculptSkin body relies on ultrasonic cavitation and radio frequency to attack the cellulite problem head on. Cavitation works to disrupt the adipose fat causing cellulite. While radio frequency works to promote collagen and tighten the area where the cellulite is located. 
Sculpt a more youthful you with sculptskin body, powered by radio frequency technology. Wrinkles and fine lines are reduced, skin texture is refined, and cellulite is visibly smoothed. Plus, you can target different areas of your body all at once in only 15 minutes without surgery, injections or downtime.
Our sculptskin body contouring treatment helps improve wrinkles and fine lines by removing fat cells via radio frequency technology. The treatment also stimulates collagen production to tighten pores, which reduces the appearance of cellulite on your thighs, hips, belly and buttocks.
This brings an overall improvement in the shape of your body and reduces circumference. 
Reduce StretchMarks
 Radio frequency energy penetrates to the deeper dermis layer to trigger collagen production and skin remodeling, it is a fantastic option for the noninvasive treatment of stretch marks.
Noticeable and consistent reduction in the surface area of stretch marks on the thighs, buttocks, and abdomen, as well as a significant increase in the number of collagen and elastin bundles. 
Real Clients, Real Results
Krista, 34, mom of 2 kids was able to reduce the circumference of her core in a few short weeks with the SculptSkin Body. She documented her journey and began to see results in stubborn areas like her flanks. Combining cavitation and radio frequency she lost stubborn fat and tightened loose skin. 
(Submissions can be sent to help@sculptskinco.com)
Ultrasonic CV function: Slim, Tone & Tighten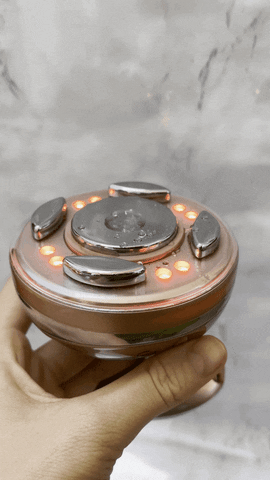 600,000 times/second ultrasonic high-frequency vibration, instantly wake up the skin bottom cells, improve cell metabolism, promote fat block decomposition, dredging lymph nodes, to achieve weight-loss effect.
Fat Reduction in the abdomen/core, legs, thighs, back, flanks, and arms

Cellulite reduction for the butt, legs, arms, and anywhere in the body
Boost Collagen production helps rejuvenate your skin

RF shaping function:Powerful RF function can make skin dermis layer produce high heat effect, and enhance fat-burning.
What is Radio Frequency? 
The SculptSkin Body uses radio frequency technology to boost collagen production in the body. It heats up the deep layer of the skin called the dermis. Collagen production helps with wrinkle reduction, fine lines, skin tightening especially sagging skin, stretch-mark reduction, and gives a younger looking appearance. 
LED red light skin care: Restore Skin Elasticity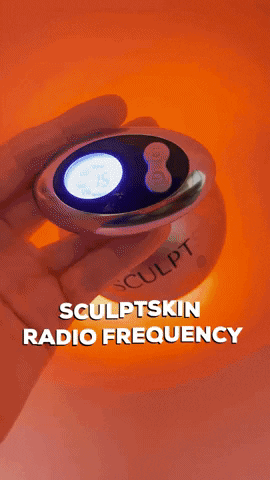 625nm wavelength energy red light with high purity, strong photosynthetic energy and uniform energy density characteristics, 
Stimulate Collagen production
Reduce inflammation and redness
Mechanical vibration function:
Mechanical vibration to make collagen fiber contraction, speed up the fat decomposition rate, effectively reduce stubborn fat.
Unique zinc alloy massage head, feel extraordinary, and equipped with HD LCD smart display, easy to operate.

Humanized design, sophisticated internal structure and perfect appearance, take the ultimate fitness experience for you.

USB charging use : 
Long lasting, more energy efficient and environmentally friendly.
4 modes ( 15 minutes per Mode):
Brighten skin mode:
Energy LED red light + RF function(red light flash slowly / red light flash quickly / red light steady on, three gear)

Burn fat mode:
Energy LED red light + Ultrasonic CV function

Burst fat mode:
Energy LED red light + RF + Mechanical vibration VIB function(red light flash quickly + intermittent mechanical short vibration / red light flash slowly + intermittent mechanical long vibration / red light steady on + mechanical long vibration, three gear)

Shaping mode: 
Mechanical vibration VIB + Ultrasonic CV function(intermittent mechanical short vibration, intermittent mechanical long vibration, mechanical long vibration, three gear)

SculptSkin uses leading edge technology to help you reduce fat in targeted areas, and reshape them. The Non-Invasive procedure liquefies stubborn fat without invasive surgery. Treatments have results in as little as one session, with quite painless. 
Settings
Application: Body
Material: BS+PC+Zinc Alloy+Silicone
Plug Type: US Plug/EU Plug
Vibration Frequency: 680,000 times/second
Operating Voltage: 8.4V
Operating Current: 0.14-2A
Charging Voltage: 5V
Power: 16.8W
Charging Time: about 2.5hours
Use Time: about 1 hour(After Fully Charged)