SculptSkin™ 3 in 1 | Body Contouring & Tightening
What does Ultrasonic Cavitation do? 
An Ultrasonic Cavitation Generator is based on the resonance of pressure waves, the ultrasound waves are conducted through the skin, penetrate directly into the adipose tissue and break it up int small pieces causing micro-bubbles which turn fat into a liquid substance 
RF (Radio Frequency) 
Using the unique deep-heating technology (radio frequency plasma technology), rapid changes electric field polarity which alternately attracts and repels electrons and charged ions in the dermis and subcutaneous tissue. That is can change the collagen formation and encourages fibroblast migration and laying down of new collagen. RF technology RF can be offered for the improvement of skin laxity, wrinkles, and facial contours. 
Technically speaking, radio frequency is a kind of electromagnetic spectrum. It is a high frequency and alternating electromagnetic wave. When RF acts on the skin, it will make the collagen of dermal fibers heated to 45 °C -65 °C. Then the collagen fiber will shrink in a short time which can tighten the flabby skin and stimulate the collagen to grow. By this, RF energy will prompt the dermis layer to be firm and elastic. That is, to tighten the skin and remove the wrinkle.
Bi-polar /Four-polar refer to a RF device, which has two /four polar or electrodes.
Bi-polar and Four-polar RF adopt the latest technology of recycle chrysanthemum shaped radiation pattern to deliver the radio frequency energy. In this way, the generated heat will produce an electric field, which will conduct the heat energy from the skin surface to the subcutaneous tissue. With bipolar/four polar, the energy flows through the tissue from the electrodes on the hand-piece to keep it is safe.
Effect of Three heads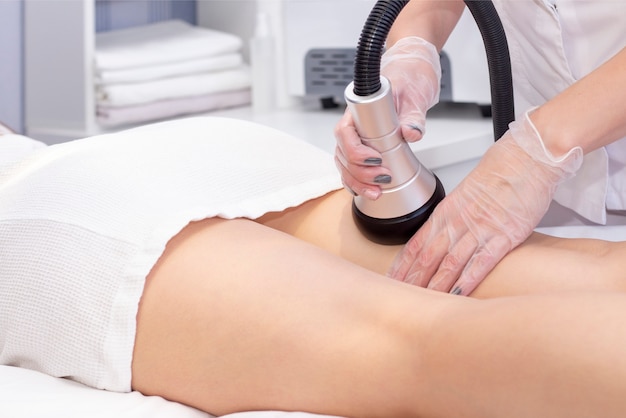 Utilizing gathered strong sound wave explosion fat head of the emitted sound waves 4000HZ into the human body, after it allows the body's fat cells produce a strong impact, can effectively burn calories, moisture and fat cells blasting, fat cells decreased, so as to achieve the effect of the removal of fat.
Increase the body's metabolic rate, strengthen the body get rid of waste and moisture;
Relax muscles, relieve muscle spasms, relieve muscle pain;
Hand tighten the wall, feet, thighs, hips, waist back, abdominal muscles, re-shaping type;
Effectively improve the buttocks and things orange peel-like skin, while solving postpartum abdomen Relaxed problem.
4 polar RF head for body
Fat dissolved, Iymphatic drainage, firm skin, enhance skin elasticity, can direct the fat layer having a directional RF output function of fat cells to accelerate the movement of heat through sweat gland, enterohepatic circulation and lymph circulation to the body of excess fat and toxins from in vitro, so as to dissolve fat.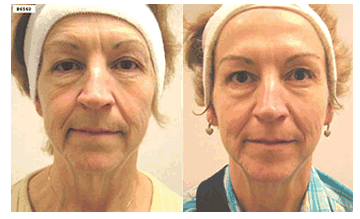 3 poler RF head for face
3 pole face radio head acts on the skin, can dermal collagen fibers is heated to 45 degrees to 65 degrees, collagen fibers victoria shrink immediately, so that the loose skin wrinkles are stretched, while stimulated proliferation of dermal collagen, prompting dermal thickness and density increase, so as to achieve the removal of wrinkles, slashing scars, restore skin elasticity and gloss to achieve firming, wrinkle purpose.
Features
Rapid vibration of adipocytes, producing countless vacuum bags into and out of cells. The body normally consumes and then expelled from the body.
Provide skin oxygen and organic nutrition, enhance cell function, promote blood and lymphatic circulation, activate metabolism, remove and soften orange peel tissue, so as to achieve body slimming and cosmetic effect.
The use of special intensity ultrasound technology in the world, can be targeted at obesity explosion, in the use of the process, no damage to blood vessels, nerves and tissues.
The whole process is completed without surgery and anesthesia. It will not cause uneven skin. Comfortable, painless, safe in the course of treatment.
The risk of no side effects and weight gain is quite obvious. Non invasive treatment does not affect normal work and life. The length of each head is very convenient for beauticians to operate. It will not cause bleeding, swelling and blood stasis.
Targeted Areas of the Skin 
Specifications
Main Material: ABS & Metal
Voltage: 110V - 220V
Frequency: 40KHZ
RF: 5MHZ
RF Level: 10
RF Handle: 3 pole RF head & 4 polar RF head
Power: 50W
Screen Size: approx. 4.3inch
Box Size: approx. 41 * 37 * 21cm / 16.2 * 15.0 * 8.3inch
Package Weight: approx. 3.5kg
40K Head: 150V 40KHZ 25W
3 Polar RF Head: 24V 3MHZ 1W
4 Polar RF Head: 66V 3MHZ 35W
Package Includes 
1 Main Machine 
2 Radio Frequency Head (Body/Face) 
1 40K Explosion Fat Head 
1 Power Cord 
1 Support 
1 Manual 
1 Box
***Sculpt Gel Not Included**
_________________________________________________________________________________
FAQs
_________________________________________________________________________________
Is Ultrasonic Fat Cavitation a safe procedure?
Yes, it is a safe, comfortable, and non-invasive procedure with virtually no side effects. It does not require anesthesia, leaves no scars and does not require any post treatment. The ultrasound energy is designed to target fatty tissues beneath the skin only, and does not affect the blood vessels, nerves and connective tissues.
Is the procedure painful?
No, the treatment is painless. A slight tingling sensation or buzzing in the ear may sometimes be felt during the treatment. Some heat sensation may also be felt during treatment but no pain. Any slight reddening of the skin which may sometimes develop during or soon after treatment quickly disappears.
On which parts of the body is the treatment most beneficial?
Thighs (saddle bags), Abdomen (love handles), Hips (flanks), Buttock, Upper arm i.e. the areas of localized fat. However it cannot be applied to the head, neck, chest, back and over bony areas.


Does it work on Cellulite?
Yes, low frequency ultrasound (40kHz) generally works well on cellulite by focusing thecavitation effect on the superficial fat tissue. Best results are obtained when the ultrasound is applied in conjunction with the radio frequency (RF) treatment which helps to tighten and tone the skin. Cellulite is the appearance of dimpled skin.
Where are fat cells stored?
Fat is stored primarily as triglycerides inside adipocytes cells located between the muscles and skin. The numbers of fat cells are the same regardless of a persons weight but the size of the cells can vary greatly.
What instant result can I expect?
The ultrasonic cavitation treatment will often yield immediate results which you can feel, touch and see and it can be long lasting. Some clients can experience between 1 to 5 cm. of circumference reduction after a single session with increasing results after subsequent visits. However, more significant results will be noticed after the second and third treatment.
What long term results can I expect with ultrasonic cavitation?
You can achieve volume reduction of fatty tissues and toning of the body. The results are gradual over a number of weeks as your body clears the broken down fatty tissues. It is not uncommon to achieve up to 10 cm reduction by the end of the course of treatments. The results can be long lasting provided you follow a healthy diet and exercise program. However it is very easy to deposit fat again into the tissues if one over-eats, consumes too much alcohol or doesn't exercise. Ultimately the result may vary depending on the individuals different tissue structure, treatment area, age, metabolism, medication, and changes in hormones.
Can I lose weight with Ultrasonic Cavitation?
Fat Cavitation is not a treatment for obesity nor is it a weight loss procedure. Rather is a method for reshaping and toning the body. It is particularly intended to reduce localized fat tissues which are resistant to exercise around the abdomen (love handles), buttocks, and thighs (saddle bags), that won't easily go away by simple dieting and exercise.
Are there any side effects with this treatment?
There are virtually no side effects. However on rare occasions there may be a slight possibility of mild side effects such as transient redness, excessive thirst, or nausea immediately after the treatment which is invariably resolved by drinking water. These are all short-term effects that disappear in a few hours.
What Guidelines should I follow pre-treatment and, post treatment?
Drink plenty of water. Drinking water is a necessary part of the treatment to facilitate the elimination of the broken down fat. Maintain a low calorie diet for a few days after the treatment to ensure that the energy released by the treatment is metabolized by the body. After the treatment patients are able to return to their daily activities as usual.
What are the contraindications with Ultrasonic Cavitation?
Ultrasonic cavitation treatment is not for everybody. Even though it is a safe and painless procedure, nevertheless there are contraindications for using cavitation devices for treatment of localized fat. Such contraindications will depend on the individuals medical history. Thus people with kidney failure, liver failure, heart disease, carrying a pacemaker, pregnancy, lactation, etc. are not suitable candidates for the cavitation treatment.
Are the results of ultrasonic cavitation similar to liposuction?
The ultrasonic cavitation can be considered as a treatment alternative to surgical liposuction. Both treatments are designed to reduce fatty tissues. However, Liposuction is invasive while Ultrasonic Cavitation is non-invasive.
_________________________________________________________________________________
SHIPPING & DELIVERY 
_________________________________________________________________________________
We are proud to provide FREE Shipping and WORLDWIDE SHIPPING. 
All our orders are professionally packaged. The upmost thought and care is taken when shipping your product. 
Orders normally take between 1-5 days for processing. 
After professing your orders should be received in 1-2 weeks. 
However, due to COVID-19 some shipments may take longer. 
_________________________________________________________________________________
REFUNDS 
_________________________________________________________________________________
If you are not satisfied with your product, we provide you with a 30 day money back guarantee. 
Simply contact us to jumpstart the refund and return process. 
Fat Reduction
Skin Tightening
Collagen Production
Must use with a conductive gel (aloe vera or ultrasound gel recommended)
CV setting is for Fat Reduction, RF setting is for Skin tightening. Combined you get the best of both worlds.
Use every 3 days or every 72hr
Must stay hydrated (recommended 2 liters of water a day)