SculptSkin™ Facial Tightener
Looking to tighten your skin?
Reduce Fine Lines and wrinkles? 
Reduce acne scars? 
In that case, the Sculpt Facial Tightener is for you! 
The Sculpt Facia tightener is a micro-current facial toning device that helps improve facial contour, tone, & reduce the appearance of fine lines & wrinkles
What is Micro-Current? 
A microcurrent facial is often referred to as a "Natural Facelift." This safe and painless facial helps erase fine lines and wrinkles, while firming your skin and defining your features. It improves muscle tone, reduces puffiness, increases cellular activity, and tightens pores. 

A micro-current facial emits extremely low-voltage electrical currents (hence 'micro' current), which mirror your own body's electrical currents, on a cellular level to repair damaged skin and stimulate collagen and elastin production.
The intensity is so slight that it would take one million micro-current machines to light a 40-watt light bulb. This treatment is often referred to as "facial toning" because it's like a workout for your face, whereby skin cells are broken down and then grow back stronger, the same way your muscles do after lifting weights. 
"It works simultaneously to repair a product collagen in the dermis, the deepest layer of your skin, while gently erasing signs of aging in the epidermis, the top layer of your skin. According to studies, a micro-current facial can increase collagen production up to 14%, elastin increases 48% and blood circulation goes up 38%," 
Functions
Reduce fine lines and wrinkles
Replenish moisture to make your skin hydrated and silky smooth
Tighten your skin with slimming and firming effect
Remove blackheads and acne
Fade dark circle and eye punch
Reduce eczema, chloasma and acne rosacea
Features
Mini and compact device thoughtfully delivers perfect palm fit and secure grips, also can be put it in your pocket or bag with carrying breeze.
Adopt micro-current technology to effortlessly meet your multipurpose skin care demands, practical to aid different daily skin problems or discomfort, no more money waste and easy to keep using it to form a good living habit.
Three adjustable gear levels with simple button control can widely fit most skin types to achieve customization effect.
Built-in 2.4V 800mAh polymer battery and supplied USB cable for continuous power and convenient charging.
LED indicators and beep alarm allow for direct and clear status check and monitor.
Auto power off function it will automatically shut down after 5 minutes working, energy saving ad eco-friendly.
Portable beauty tool for both personal home use and professional SPA applications.
With a cloth bag to protect your device from daily wear and tear, scratch & etc.
Well organized in a nice and classy package box, ideal gift for your mother, girl friend, fiancee, wife on birthday, honeymoon, wedding ceremony, Christmas, Valentine's Day and so on.
Real Clients, Real Results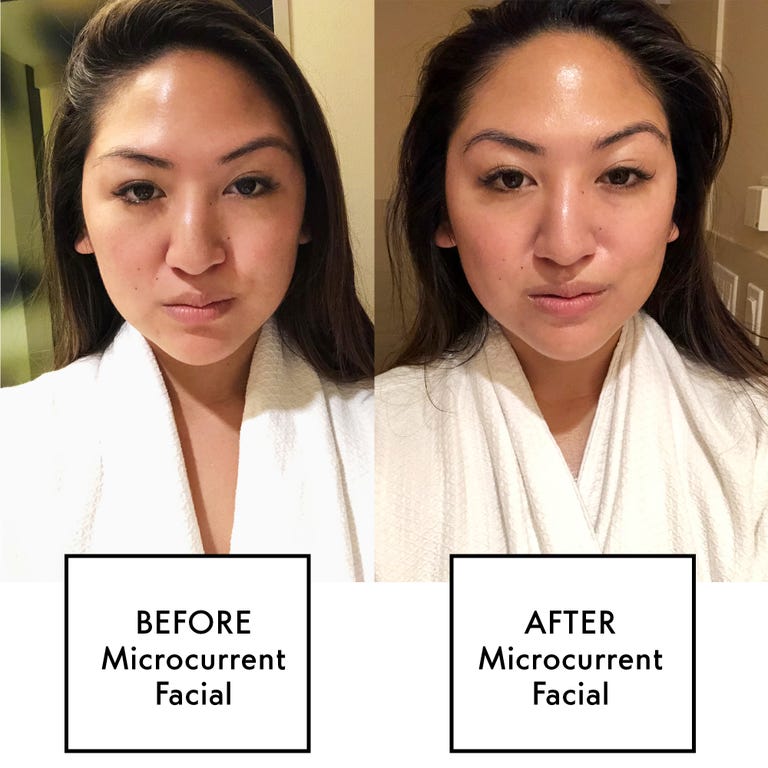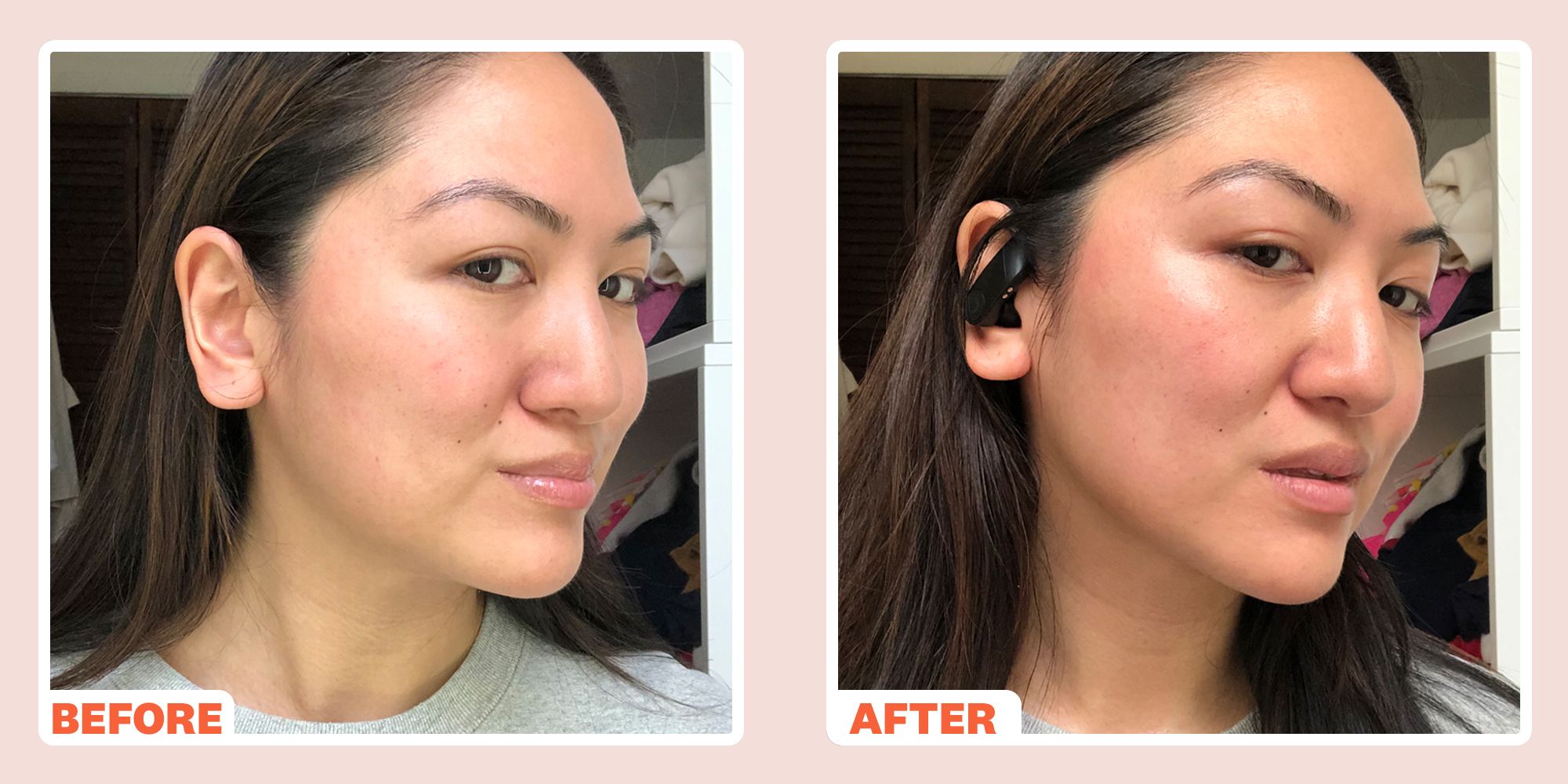 What's in the Box? 
1* Micro-current Face Lift Machine(Main Unit)
Specifications
Item: Microcurrent Face Lift Machine
Battery Type: 2.4V/800mAh Polymer Battery
Size: about 10.6*6.5*3.8cm
______________________________________________________________________
FAQs
______________________________________________________________________
WHO IS MICRO-CURRENT FOR? 
A micro-current facial is ideal for anyone who wants to improve the appearance of their skin, whether they are more focused on an anti-aging or preventative treatment because it covers all the bases. It is safe and effective on all skin types and skin colors.
Pregnant women and people with any kind of heart condition should avoid this treatment. As always, discuss any allergies or skin sensitivities with your cosmetic doctor or aesthetician before starting a treatment.
WHAT ARE THE SIDE EFFECTS OF MICRO-CURRENT FACIAL?
There is no downtime and you can immediately go about your day…glowing like you've never glowed before. If you've had the treatment as part of a Classic European Facial or a medical facial, you may notice some redness, but nothing that makeup can't hide.
RECOMMENDED COURSE FOR OPTIMAL RESULTS?
Results are cumulative, so after a series of sessions, the improvements are many and longer lasting. For sustained results, the recommended course of treatment is series of 10 to 15 treatments within the first 6 weeks, followed by a 3-month maintenance schedule.
_________________________________________________________________________________
SHIPPING & DELIVERY 
_________________________________________________________________________________
We are proud to provide FREE Shipping and WORLDWIDE SHIPPING. 
All our orders are professionally packaged. The upmost thought and care is taken when shipping your product. 
Orders normally take between 1-5 days for processing. 
After professing your orders should be received in 1-2 weeks. 
However, due to COVID-19 some shipments may take longer. 
_________________________________________________________________________________
REFUNDS 
_________________________________________________________________________________
If you are not satisfied with your product, we provide a 30 day money back guarantee. 
Simply contact us to jumpstart the refund and return process. 
Fat Reduction
Cellulite Reduction
Skin Tightening
Wrinkle Reduction
Collagen Production
Must use with a conductive gel (aloe vera or ultrasound gel recommended)
CV setting is for Fat Reduction, RF setting is for Skin tightening. Combined you get the best of both worlds.
Use every 3 days or every 72hr
Must stay hydrated (recommended 2 liters of water a day)
SculptSkin Body
USB Charger
Cloth protection
Manual (Physical & Digital)
1 year warranty
*Digital manual sent upon purchase*
How to Use Your Device
the ultimate portable device that combines the power of cavitation and radio frequency technology to help you achieve a more toned and sculpted body from the comfort of your own home. Here's how to use it:
Start by preparing your skin: Before using the SculptSkin Body, cleanse the area you want to treat with a gentle cleanser and pat dry. Avoid using any lotions or creams on the area.
Apply a conductive gel: Apply a thin layer of conductive gel to the area you want to treat. This will help the ultrasound waves and radio frequency waves penetrate the skin more effectively. (Recommended: aloe vera or ultrasound gel)
Turn on the device: Turn on the SculptSkin Body and select the appropriate settings for your treatment. You can use both the cavitation and radio frequency technology together, or separately, depending on your preferences. (CV setting is for cavitation, RF setting is for radio frequency)
Begin treatment: Start by using the cavitation feature of the device. Move the SculptSkin Body in circular motions over the area you want to treat for about 10-15 minutes. Then switch to the radio frequency mode and repeat the process for another 10-15 minutes.
Repeat as needed: For best results, it's recommended to use the SculptSkin Body 2-3 times per week (every 72hrs). After each treatment, drink at least 8 glasses (64 ounces) of water to help flush out any toxins released during the treatment.
The SculptSkin Body's unique feature of combining both cavitation and radio frequency technology together allows for even more effective body sculpting results. The cavitation feature breaks down stubborn fat cells, while the radio frequency feature helps to tighten loose skin and improve overall skin tone and texture.
Toned & Sculpted Arms
With the power of ultrasound waves, this non-invasive treatment can help to break down stubborn fat cells and contour your arms to achieve a more toned and defined look.
Our advanced technology not only helps to reduce fat deposits in the arms, but also improves blood circulation and stimulates muscles for increased definition and tone. Additionally, cavitation body sculpting can tighten loose skin, further enhancing the overall appearance of your arms.
While results may vary based on individual factors, cavitation body sculpting has been proven to be an effective solution for those looking to achieve a more sculpted, toned, and youthful appearance in their arms. Don't let stubborn fat and loose skin hold you back from looking and feeling your best.
Improved Lymphatic Drainage
Looking for a way to reduce bloating and feel your best?
Cavitation body sculpting might be just what you need!
This amazing procedure uses ultrasound waves to break down fat cells and contour your body, but did you know it can also improve lymphatic drainage?
That's right, by helping to remove excess fluids and toxins from your body, cavitation body sculpting can help reduce bloating and leave you feeling more comfortable and confident.
So if you're tired of feeling bloated and uncomfortable, consider giving this procedure a try. With its ability to help you achieve a slimmer and more toned look while also reducing bloating, it's no wonder cavitation body sculpting is becoming a popular choice for those looking to improve their body image.
Are you seeking a safe, non-invasive way to contour your body and lose stubborn fat? Cavitation and radio frequency (RF) treatments are increasingly popular solutions that promise effective results without...
Say Goodbye to Cellulite and Fine Lines
the ultimate solution to achieving a toned, youthful and radiant appearance in the comfort of your own home - the cavitation and radio frequency device! This powerful device utilizes cutting-edge technology to deliver spa-quality treatments right to your fingertips. Say goodbye to stubborn cellulite, sagging skin and fine lines with this non-invasive, pain-free solution that offers visible results from the very first use. Its compact and user-friendly design makes it easy to use at any time, anywhere. Experience the confidence-boosting benefits of radiant, healthy-looking skin with our cavitation and radio frequency device. Get yours today and unlock your beauty potential!